With deep roots in the industrial robotic industry, our in-house engineering and technical experts understand exactly what's required in order for our advanced technology to help you succeed. The inherently modular nature of OnSpec Robotics allows these innovative systems to be customized or adapted to reliably solve a wide range of remote tooling requirements. Our truly modular systems adhere to our philosophy of empowering our integrity engineering robotic experts to precisely deliver the system you need without reinventing the wheel. Why rebuild the foundation, or risk generating incompatibility, when prior engineering principles and design techniques have already proven themselves? Our unique design approach for custom robots translates into significant time savings, cost efficiencies and risk mitigation for the customer and the end user. Reduced capital expenditures, minimization of downtime, reduced exposure to hazardous environments and environmental hazards, OnSpec Robotics clean the slate of historical methods for inefficient cleaning, maintenance, and tooling applications while futureproofing your operations.
When
Robotics make sense for remote operations when manual efforts put people in harm's way, operational costs can be reduced, and productivity can be made more efficient. Our robotic platforms are carriers that deliver maintenance and repair tools and sensors to inaccessible remote locations while automating workflows. With a customer-centric adaptable design basis, OnSpec Robotics provide increased value and efficiency through capability expanding equipment. Whether taking samples from a nuclear hot cell or cutting ropes deep underwater, OnSpec Robotics work continuously in confined spaces, hazardous areas, and underwater environments where it is too dangerous for direct human intervention. Product reliability and ease of use ensures maximized productivity, improved overall quality, reduced risks, and lowered costs versus traditional methods.
Where
At sea or in port, deploying robots to do mechanical tasks like inspection and cleaning is the economic and environmental solution for industrial operators. Our industrial robots can help eliminate damage caused by traditional cleaning. Remotely removing marine growth to prevent corrosion and increase fuel efficiency, our fully steerable crawlers require minimal staff training and eliminate the need for dry docking – they even operate in the splash zone or water line. Underwater robots cleaning ship surfaces could help avoid many of the risks associated with engaging human divers – not to mention reducing high costs. The trusted supplier for industrial leaders worldwide, our proven technology cleans remote infrastructure on demand, on budget, and on your schedule.
Our custom robotic technology isn't limited to the marine transportation sector. Eddyfi Technologies' unmanned, environmentally friendly, remotely operated vehicles can be used for a multitude of subsea and land-based applications. OnSpec Robotics perform physical tasks including:
replacing modules on subsea structures, preventing production shutdown, and minimizing product loss

taking samples, demolishing, and size reducing contaminated structures in high radiation zones

removing or recovering remote equipment to an area where it can be worked on or stored safely

fabric maintenance like paint and coating application

asset remediation including pipelines and storage tanks

foreign object search and retrieval (FOSAR), object manipulation or recovery

explosive ordnance disposal (EOD).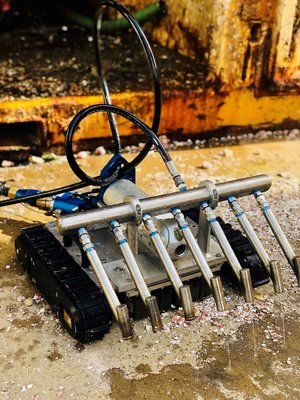 Look for OnSpec Robotics to provide remote cleaning in high radiation areas where loose particle contamination and airborne concerns exist. Seek OnSpec Robotics for decontamination operations in the power generation industries. Our remotely operated industrial robotics can be used to carry out simple tasks or perform advanced intervention operations in the oil and gas, nuclear, petrochemical, mining, public infrastructure and utilities, construction, and other sectors – with a common goal of improved safety, asset lifetime extension, cost effectiveness, and reduced downtime.